Programs are made up of episodes designed for you to work through one by one. These can be classes that teach you more every episode to ensure that you're progressing correctly!
---
How to listen to or watch a program
You can find programs that are tailored to your objectives by scrolling down the For you tab.
Tip: Find out more about objectives here
Alternatively, you can view programs within the Activities and Objectives sections of the Explore tab. They're the ones that appear as a pile, with each episode on top of each other: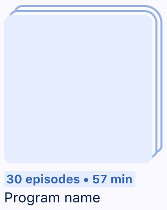 −
Yes. See our article on favoriting here.